Field Trips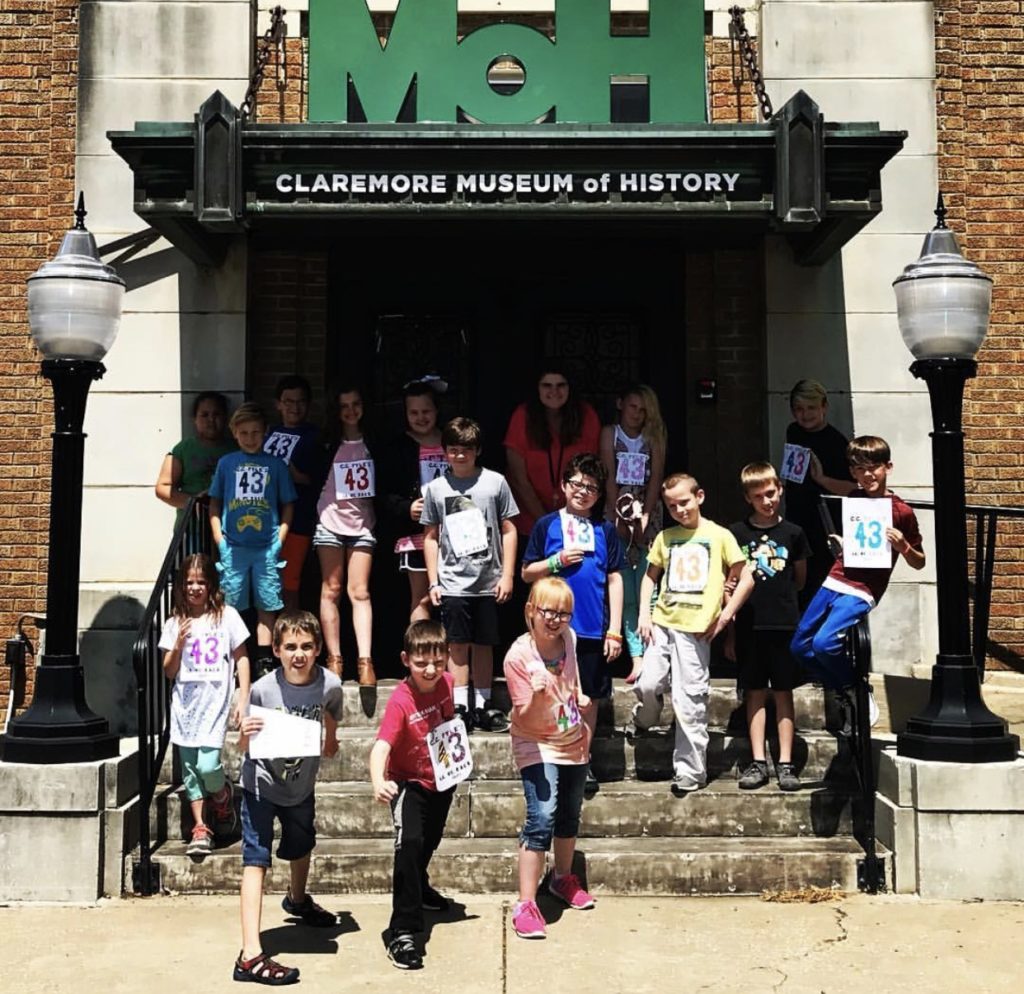 (Currently Following Covid-19 Guidelines)
Take a class field trip to the Claremore Museum of History (MoH)! Our school group tours are awesome and they are FREE of charge. Please schedule your school group tour at least three weeks in advance. Tours can be scheduled Tuesday through Friday from 11AM until 4PM.
To schedule your visit, please call us at 918 923 6490
For additional information, please email info@claremoremoh.org.
Before touring the MoH, please review the following MoH Rules (guidelines and policies):
MoH Rules (Guidelines and Policies)
Chaperone Policy
One adult chaperone per 10 students is required for all school group visits. Please assist with dividing students into groups if changes need to be made.
We need your help in monitoring student behavior.
Please remember to lead by example and be engaged on your tour.
Please allow students to answer questions.
Please accompany and make arrangements for any student who requires personal or medical assistance, let us know how we can help.
Museum Manners
Please help us preserve our collections at the Claremore Museum of History, by not touching any museum objects. Ask your students to keep their hands behind their backs, in their pockets, or at their sides. We ask that your students not chew gum or carry food or drinks while in the museum.
Remind students to stay with the group while exploring the museum.
Please remind students to raise their hand when they have a question or comment.
Leave all backpacks, large purses, umbrellas, or other bulky items on the bus while touring the museum.
Please turn off and refrain from using cell phones while in the museum.
Tour Policies
Plan to arrive at the museum at least 15 minutes before the scheduled start time of your tour. If you are running late for your tour, please call the museum at 918-923-6490 to let us know and give us an updated arrival time.
Bus Parking
Bus parking is next to the museum on Weenonah Ave. Bus drivers should drop off groups in-front of the main entrance on the West side of Weenonah Ave. Students and chaperones will go up the steps and enter through the main entrance.
Lunch
Groups may bring sack lunches to eat outdoors in Lynn Riggs Park. There are picnic tables and trash receptacles available in the park. Lynn Riggs Park is located off of Will Rogers Blvd. and Weenonah Ave. If you plan to eat lunch in the park, please let us know in the Visit Form. Also, make sure to put trash in the receptacles and leave the park the way that you found it. In case of inclement weather, we will set up tables for your lunch break inside the museum. We do have a kitchen and you are welcome to store sack lunches there.
Tour Topics
To help you get the most out of your visit, we tailor your school group tour based on your classroom needs and interests. The MoH is eager to provide relevant and engaging tours to our school group. We love for our school groups to customize their visit to have the best museum experience. Below are some of our exhibits and topics. Previous tours have focused on the rich history of Claremore, public art on Main Street, and inspiring Oklahomans. To discuss one of our tours, please email info@claremoremoh.org
30 Student Maximum (typically one class)
All field trips support Oklahoma Academic Standards (K-12), and we encourage critical thinking, communication, creativity, and collaboration
60 Minutes
Andy Payne: The Bunion Derby
Early Inhabitants: Cherokee and Osage Peoples
Lynn Riggs: Beyond Realism
Patti Page: The Singin' Rage
Radium Town: Claremore, OK
Stuart Roosa: Apollo 14
Building Heritage, History and Hope: Claremore's Black History
To schedule a field trip, please fill out the form below.