Telling the history of Claremore…one story at a time.
BY: Ken Willhoite
This was published in the Claremore Progress Sunday, June 27, 1993
A change had swept over the United States. The harsh brutality of the Civil War had given way to growth and rebuilding. George Washington Eaton, a young confederate soldier from Texas was standing in the threshold.
Stuck in Arkansas after the war, he longed to return to his beloved home, but fate had something else in store. For if he had returned to his home state, Claremore, Oklahoma, would be a different place today.
It was during that period that G. W. Eaton met Nancy Williams, the woman of Cherokee descent, who was to become his wife.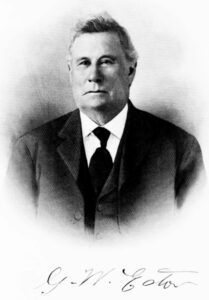 "After the war, he was going to take some Arkansas apples back to Texas, but there was a bad crop of apples that year," said Paulyne Vanzant, Eaton's great-granddaughter. "He decided to scout around for onions or produce to take back, and that's when he met his wife."
Finding something better than the produce he was looking for, Eaton settled down in a part of Indian Territory that is now part of western Arkansas, never making it back to Texas. He and Nancy bought a small farm and by old newspaper accounts, turned the soil with a blind mule and a team of borrowed horses. The farm prospered, and they soon had two children, Carolina and Calvin.
In 1874, he loaded his wife, mother-in-law, and children in a wagon and headed for the open range of the Cooweescoowee District of Indian Territory, to homestead in the shadow of Claremore Mound.
A few miles south there stood a trading post. It would soon become the town of Claremore.
Running cattle on the unfenced land, the Eaton family grew with the addition of two more children, Martha and Joel. In 1878 and 1879, as the new Eaton children came bawling into the tough, isolated world of the Indian Territory, the outside world came roaring in on the shiny, unweathered tracks of the newly completed Frisco Railroad. Claremore had become a town of sorts, Oklahoma had become a state, and Eaton pioneer spirit turned to another goal…the establishment of the second general store to grace its dirt streets.
The store became successful, and the Eaton family continued to prosper along with the town they helped create. When it was decided that Claremore should be a county seat, G. W. built a two –story brick building on main street to house the court.
The building still stands today as the former home of Wilson Hardware and Antique Peddlers Mall. Eaton is credited with helping create the present layout of the town. He also built several houses in Claremore.
"Many of the houses he built are still standing," Vanzant said. "Claremore used to be centered more around the area of Radium town, and I believe he was the one who drug it toward where downtown is now."
Eaton's greatest contribution to Claremore, however, was the purely accidental discovery of what would pave the way for growth and prosperity that no one could have foreseen. Radium water.
While drilling for gas near what is now Ninth and Seminole, a sudden flow of the foul smelling water gushed from the ground.
"That well had quite a bit of pressure," said Jim York Jr., G. W. Eaton's grandson. "If you've never smelled it before, phew, it had a smell."
The odor, in fact, caused an olfactory rebellion among the neighbors, causing the town council to demand that something be done.
"People kicked up such a fuss about the smell that he had to ditch the water off into dog creek," said Vanzant. "They had no idea it had any medical value until some kids with eczema got in the water and pretty soon their skin began to clear."
Knowing a good thing when he saw it, Eaton built Claremore's first bath house, consisting of nothing more than one small room with a tub in it. He later built the Mendenhall Bath House, taking guests from all over the United States to usher in the radium water industry.
While Claremore was growing, the Eaton family continued to live on their ranch at the foot of Claremore Mound. The four children all attended the Cherokee Seminaries in Tahlequah. Martha went to Drury College in Springfield, and Caroline went to the University of Chicago, earning a PhD. She became a writer, and superintendent of Claremore schools from 1921 to 1925. She would later become the first Cherokee woman to be inducted into the Oklahoma Hall of Fame.
After college, Martha returned to the family homestead and soon married Jimmy York, a traveling music teacher from Georgia. The couple had five boys, including Eaton (Paulyne Vansant's father,) Jim Jr. (mentioned above,) Grady, Wynn and Calvin.
As a music teacher, Jim York Sr. had traveled the country instructing church choirs. Although he didn't travel anymore, and had become Claremore's city clerk, he continued to take students, becoming known by nearly everyone in town.
"He was city clerk for 25 years and court clerk for a time before that, and as far as I know, he never campaigned," said Paulyne of her grandfather. "People would see him around town and at his music programs, and that would do it."
"He was really an interesting man. They called him the whistler, because although he had a car at the time, he would walk to work, whistling all the time, and carrying a cane. I think that's how people remembered him."
Paulyne also remembers her grandfather as a likeable man that loved the music he taught.
"The very first thing he would do when he got home was sit down and play a rollicking tune on the piano, even before he checked to see who was home."
As the years passed, the Eatons and Yorks became an extended family that centered around the shared history and homestead that G. W. and Nancy Eaton had built.
That family pride is a tribute to the life and pioneer Eaton spirit that has shaped the history of Claremore, Oklahoma.